Our Light in the Window candles are lovingly handmade, and so each one is unique!  Our candles are created from 100% organic, Australian beeswax, and as we do not use any artificial colours or scents, the colour of the wax and the level of honey scent varies depending on what the bees have been pollinating!
Enjoy the diversity!
The benefits of using beeswax
Beeswax candles produce negative ions when burned, and these ions help to neutralise pollutants in the air.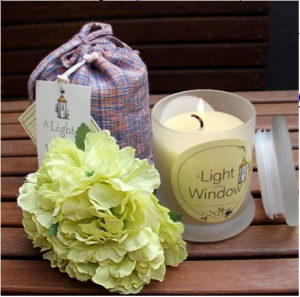 This helps eliminate dust, pollen, odours, and toxins in the atmosphere, easing allergy and asthma symptoms and improving breathing for anyone nearby.
Beeswax candles are smokeless and provide a cleaner burn than any other candle, including vegetable/soy waxes.
Beeswax candles have the brightest, purest light of any candles and are closest to natural sunlight.
Beeswax is a natural product and a renewable resource.
Beeswax candles do not expire. In fact, aged beeswax candles burn longer and with more beauty than freshly made ones!
Our care and attention (and returns)
Every Light in the Window candle is carefully hand-poured, checked and packaged before it is delivered to you.  However, sometimes you may receive a candle that is really "one of a kind"!    Remembering that our candles are not factory produced we invite you to embrace the variations in the way the wax has been poured.
If one of our candles is not up to standard and has slipped passed our quality control, we would like to know about it!  Please contact us:  admin@alightinthewindow.com.au
A few other things you may notice about your beeswax candle:
Some candles may not adhere to the side of the glass, which can be caused by a change in temperature (even during the shipping process). It is the character of beeswax to do this, and it will not affect the quality or burn time.
Over time you might see a light film on the surface of your beeswax candle that resembles frost; this is called "Bloom" and it is a hallmark of beeswax candles, especially if they have been subjected to many temperature changes.  (Only 100% pure beeswax will 'bloom': if you find 'beeswax' that does not bloom you can be sure that it has been blended with paraffin, soy or palm wax.)  (See Candle Care for information on how to remove it).
We invest a lot of care and attention in our candles and we want you to have the very best, so if for any reason you are not happy with your purchase, please contact us and we will work with you to find a solution. admin@alightinthewindow.com.au
Making the most of your Light in the Window
All burning candles need some maintenance and they should NEVER BE LEFT UNATTENDED. For information on how to make the most of your candle and to care for it, we invite you to visit: Candle Care.